Bike rental
Modern bikes and e-bikes equipped with state-of-the-art components
Lenzerheide is a bike paradise and offers countless opportunities for impressive trails and tours. The Bike Kingdom offers a wide range of routes which can be discovered.
Depending on the difficulty level of the trail you've chosen and your riding skills, the best suited bike will vary.
At Pesko we offer the right equipment for every bike riding adventure. You can choose from a pool of modern bikes. There are also different models and options for children. To us the bike settings and its service are just as crucial as the bike itself. For this reason, every bike is perfectly prepared before it will be rented out again. So you can make the most on your riding tour through the beautiful Lenzerheide landscape.
Discover shops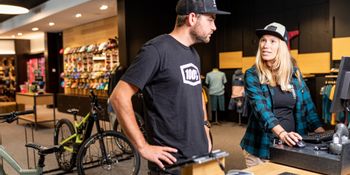 Our bike rental offers you these advantages
Premium bike brands such as Scott and Rocky Mountain
We rely on bikes from Scott and Rocky Mountain in our Pesko rental fleet. As these are high-end brands, you can rely on high quality and perfectly tuned components.
Freshly tuned equipment before every rental
Before a bike leaves our shop, we carefully check its overall condition and all essential components such as brakes and suspension which are adjusted and modified.
Current, high quality models
Our bike and e-bike rental fleet contains new models which are amongst the best on the market in their respective area of ​​use (e.g. Enduro)
In the middle of the Bike Kingdom
If you are looking for a suitable route to test your rental bike, Lenzerheide's Bike Kingdom is the place to be as it offers a wide range of trails.
The following bike categories are available for rent at Pesko
The following e-bike categories are available for rent from Pesko
A broad variety of first-class bikes
Find the perfect fit for your adventure
Our large selection of rental bikes offers the right model for every taste and every ability level, from downhill to endurance to electric bikes and of course kids bikes.
Whether you are getting on a mountain bike for the first time or are already an experienced mountain biker, we have a suitable model for you. Our fleet of rental bikes is divided into different categories: When it comes to downhill bikes, you can choose between Pro and Performance. The endurance and fully mountain bikes (including e-mountain bikes) are available as full suspension models.
You can also rent a set of protectors for your downhill bike to give yourself the best possible protection. This includes a full-face helmet, body protector, shirt, shin guards and gloves. You have to bring your own goggles, shorts and shoes - If necessary, you can of course also buy these items from us.
This is how Peskos bike rental in Lenzerheide looks like
Leisure rider or dynamic trail seeker - we have the right bike for you
Rent your desired bike easily and conveniently online
Benefit from our innovative online reservation
Would you like to spend your summer holliday in Lenzerheide and discover the impressive scenery and nature by bike? You are able to book your equipment directly through our simple online booking platform. After selecting the shop and the planned rental period, you'll be able to choose your bike or e-bike out of the available categories.
If someone is joining you on your trip, you are also able to reserve their equipment directly online. After payment has been made on the site, you will receive a booking confirmation to your provided email address. You can pick up your equipment in the shop on the first day of your rental period with the provided code in the email. All bikes are individually adjusted and subjected to a service beforehand.