Ski and snowboard service
A requirement for a great and safe day on the slopes
Renting the right ski or snowboard model is one thing, equipment perfectly set for your skills and top serviced material are another. When you rent your equipment from Pesko, you can rest assured that your gear will be perfectly adjusted just for you. This service is already integrated in the rental price.
Pesko's ski and snowboard service is not only available for your rental equipment. Of course you are very welcome to bring your own skis or boards for a service and the service team will prepare them for your next adventure.
At Pesko we also offer an overnight service which is available daily. If you rent your skis or snowboards from Pesko, you are able to bring the rented equipment to the shop after your last run. There it receives an overnight service and can be picked up the next day in the shop for the first ride up the gondola. Freshly prepared material is available to you every day, which takes riding to a new level. This is Pesko's service guarantee.
Discover shops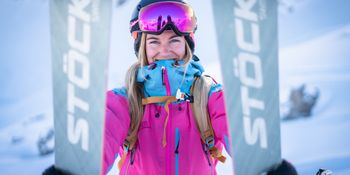 Ski and snowboard tuning are offering you these advantages
Individually adjusted material
Each guest has different requirements and needs for their equipment. Ones riding skills play a major role here. All of these requirements are taken into account.
Well-founded know-how and expertise
Our tuning team in the shop knows the skis and boards very well and are true masters in their profession. This ensures you always get perfectly prepared material.
State-of-the-art tools and machines
Wintersteigers innovative machines allow us to tune many of our rental models in a short amount of time. Individuality and the highest quality are the main focus for us. This doesn't just apply to our rental equipment but also to your own gear.
Can be combined with other services
As part of the passe-partout, you are able to rent your equipment from Pesko for the entire winter season. Your material is regularly prepared and optimised for your needs.
Surcharges and deductions
Repairing the surface CHF 20.-
Underlay scratch filling per 8cm CHF 15.-
BFU binding test CHF 69.-
Children's ski/snowboard smaller than 145cm deduction of CHF 10.-
High tech waxing and edge tuning
State-of-the-art machines ensure a perfect tuned ski
For us, well prepared equipment is a must for a successful day on the slopes. To ensure this, every rental ski and every rental snowboard is adjusted correctly before each rental.
We are now able to tune your skis all year around. So there's nothing holding you back to ski our glaciers also in summer.
Our new Jupiter ski service machine from Wintersteiger ensures even more safety on the slopes with perfect prepared equipment! It recognises your ski immediately based on the ski code and carries out an appropriate service. Sharp edges and a freshly waxed base enable you to carve down the slopes with ease.
This is how Pesko prepares your equipment for the slopes
Our on-site ski and snowboard service in pictures
Professionally adjusted bindings for more safety
This ensures, skis and boards are perfectly in tune with your body
An essential part of the ski service is the correct setting of the binding. Many different factors influence the adjustment for an optimal end result. On the one hand, there is the skiers individual body data information , such as weight and height. On the other hand ones skiing skills and the respective ski model are also of importance here.
The right setting not only ensures that there is an ideal power transfer on to the ski and thus to the slopes. This also minimises the risk of injury in case of a fall. The binding must not release too early in order not to intervene with the skiing. The bond shouldn't be released too late either, in order to avoid injuries. In order to achieve this middle ground and thus the right setting, we at Pesko work with innovative tools so you can always rely on your material. & Nbsp;
& nbsp;