Passe-partout
The practical Pesko season ticket including a wide range of equipment
Winter in the Arosa Lenzerheide region excites with fantastic slopes, various freeride routes and a large network of cross-country trails. In order to make the best possible use of these local conditions and to really have fun in the snow, Pesko has a special offer: a Passe-partout as a season ticket for top equipment throughout the entire winter.
With the Passepartout you get your very own personal season ticket, which offers you total freedom. You rent when you want, where you want, what you want: alpine skis or cross country, snowboards – included is the entire 5-star category range for adults and for children up to the 4-star category. You can choose between different passe-partouts.
Discover shops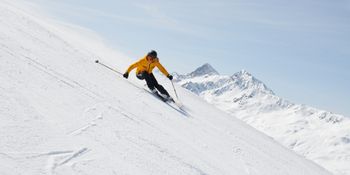 Our passe-partout offers you these advantages
Available for every Pesko guest
Our Passe-partout as a season ticket for your desired rental equipment is available for young and old. This includes special skis for children as well as all models of the current season.
Service and fitting
Every rental product which is as part of the passe-partout is exactly adjusted to the guest's body data and individual riding ability.
Valid throughout the entire winter
The passe-partout included equipment can be used all winter long, during the Arosa Lenzerheide winter season.
Fun sport equipment is included
In addition to skis, snowboards and cross-country skiing sets, our passe-partout also covers the rental of sleds and snowshoes. Unique experiences in the snow are waiting for you!
Your season ticket for various winter sports
An extensive range of equipment
The range of rental products as part of the passe-partout is very diverse. In addition to alpine skis and snowboards, cross-country skis are also included. You can also try out and rent numerous fun sports equipment, such as snow shoes or sledges: Pesko's entire range of winter sport products is at your disposal.
You are also able to pick up or return skis from or to other ski stations in Switzerland with our adult and Pesko passe-partouts. In order to use this option, please check with our team in the shop to organise this prior to collection or return. Flexibility and our customers whishes are for us at Pesko the highest priority
Especially for our little ones: A winter sports pass for your child
In the Arosa Lenzerheide sports and winter holiday paradise
With the convenient passe-partout, which is always available, your child can rent unlimited skis, snowboards, cross-country skis with boots and poles as well as sledges and snow shoes at two of our locations. This includes the two shops with ski rental in Lenzerheide and at the Rothornbahn.
In the price of CHF 398.- is top prepared equipment included as having fun on the slopes is the number one priority for us. Our children's passe-partout option is available to all children up to the age of 13. The available gear in the passe-partout option contains models specially made for children. Only snow shoes are only carried in adult sizes.
Book our children's passe-partout and give your child the freedom to spontaneously engage in whatever sport they want. & nbsp;