Gift vouchers
No matter the occasion a Pesko gift voucher is always a great choice
If you are looking for a special gift to surprise a loved one, we recommend a Pesko gift vouchers. The wide range of products in the Lenzerheide shops will definitely be a joyful gift, especially for people who are enthusiastic about sports and fashion.
Whether biking, skiing, snowboarding, hiking, golf or fashion: Our team is happy to assist you choose the right product for you. Thanks to sales offers, depending on the season, the range of products is expanding dynamically and new items are constantly being added. A visit to the shop is definitely worth it. A Pesko gift voucher - the perfect gift at any time.
Discover shops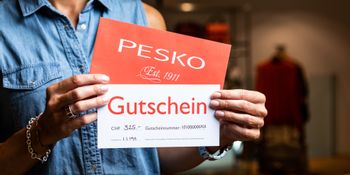 Order now a gift voucher from Pesko in Lenzerheide
Thank you very much for your order!
You will receive an order confirmation by email.
You will find our bank details in the confirmation email. Please transfer the chosen amount into the following bank account. As soon as we have received the outstanding amount, your gift voucher will be sent to the address provided. If you have any questions or need further information, please don't hesitate to contact us at any time trough our Contact form .
We have sent you an email containing complete banking details. Please transfer the amount within 7 days.
Our gift vouchers offer you these advantages
Can also be redeemed for discounted products
The purchased voucher is valid for all products sold in the shop. This also includes already reduced or discounted items at Pesko stores
Choose your voucher amount freely
You can choose any amount you would like, without having to resort to predefined sums. Flexibility and individual options for our clients always come first.
A personal surprise for your loved ones
A gift voucher always gives the recipient the option to redeem the voucher for one or several products they like. So your gift will definitely be a win!
Can be divided into several purchases or visits
You don't have to use up the entire voucher amount when making a purchase. You can also split it up into several purchases. The remaining value will be noted on the voucher.
How does the redemption of the voucher work?
Can easily be ordered and redeemed in our shops
Gift vouchers can be redeemed in every Pesko shop, exception at the Stöckli Test Center. This diverse redemption allows one to choose from a wide range of products, as every Pesko shop has a different focus on products and services. & nbsp;
The selection is very large, from special sports equipment to fashion and brand-specific shops. If, however, at the time of your visit there is no product that tickles your fancy, the voucher can also be redeemed at a later stage. The issued voucher does not have an expiry date and therefore does not lose its value even after a certain period of time. You may find something you like during your next visit. Our team is always here for you if you have any questions. Happy shopping!
The following shops offer gift vouchers