Pesko's Thank You
The Pesko family says: Thank you
Our regulars are very important to as they are a bit support to our business. Therefore we would like to thank you and give you something back. As a recipient of Pesko's Thank You, you will receive a 5% credit note on all your purchases at all locations once a year. A sincere appreciation for your loyalty.
This offer not only includes clothing and sporting goods, but also our rental range, which can be reserved and booked in store or online. In addition, this also includes reduced items. You will also be regularly informed about new fashion trends and sports experiences. Learn more about the offers and promotions from Pesko´s Thank You.
Discover shops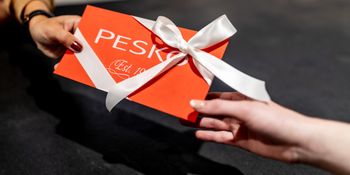 These are "Pesko's Thank" you advantages
Special service offers
Our regulars always enjoy the best advice on site. In addition, we offer personal appointments at any time to answer questions or detailed service recommendations.
Great promotions and goodies
As part of "Pesko's Thank You", you will receive exclusive offers relating to products in the shops and you'll have the chance to view and purchase new products as one of the first.
Receive important information as one of the first
As a recipient of "Pesko's Thank You", you will receive information about product range extensions or special offers before anyone else and are therefore always up to date.
Bring in your own ideas
Your opinion is important to us. That's why we would like to involve you as a loyal customer in important questions and topics. Strong customer focus is omnipresent at Pesko.
Our customer bonus system
Unique specials are waiting for you at Pesko
As a "Pesko's Thank You" recipient, we offer you a number of special benefits. This allows you to take advantage of all our offers and benefits to the fullest. This membership includes the following benefits:
The very best advice and attention as well as personal consultation appointments
Privileged information and background information on fashion and sports topics
Further development of our business idea & ndash; at eye level and taking your needs into account
A lot of human touch, also in our smart, digital world
All these advantages make your purchase at Pesko something special. We would like to take this opportunity to thank you for your trust and hope to be able to welcome and advise you again in the near future on our digital portal and in person in the shop. & Nbsp;
& nbsp;
These shops offer "Pesko's Thank" you