Boot fitting
Whether we are talking about hiking or ski boots – our aim is a perfect fit
Who doesn't know the feeling? You've just taken the lift to get up to the top for your first run - and after a couple of minutes the fun is already over. Your boots are pinching and you've got cold feed. The reason for this is an ill-fitting ski boot. Pressure points which make your foot sore will also quickly dim your skiing fun.
Exactly for these cases we offer boot fitting on our shops. A Pesko boot fitter will adapt the boots individually to your foot. Thanks to state-of-the-art technology, the material is treated and subsequently shaped to suit your foot. This service is not only available for your ski boots.
Boot fitting can also be used for your bike, hiking or golf shoes. Whit especially fitted insoles we ensure that your ill-fitting sports shoes will be a thing out of the past. Find out more about our boot fitting options.
BOOK NOW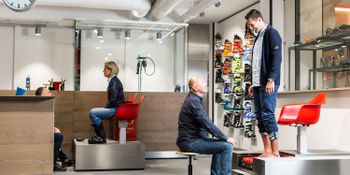 A Boot fitting offers you these advantages
Individual adjustment made for your foot
As part of the ski boot fitting, your foot is precisely analysed and measured. Based on this, the ski boot shell is changed in such a way that it'll hug your foot perfectly.
Ensures adequate blood circulation
There is only a proper blood supply going to your foot if your ski boots fit perfectly and you don't have any pressure points. Cold feed because of boots that don't fit are therefore a thing of the past.
Specially made insoles
With insoles especially made for you, we modify the footbed of your hiking or ski boots. This will make your adventure even more comfortable.
Many years of experience and expertise
Our employees in the shop are true experts in their field. They will find the perfect fit for you through a wide range of requirements and advisory skills.
Boot fitting in winter
For even more comfort on the slopes and in fresh powder
Back to the roots. Pesko started out as a shoemaker - now the circle is closing. Thanks to the latest technology, Pesko can make sure your ski boots are super comfortable to wear. Ski boots are the most important part of ski equipment because they are a direct connection from feet to skis. Only if the ski boots have been correctly selected and fitted will they be comfortable and allowing an optimal performance.
A good fitting ski boot is crucial when it comes to having fun and enjoying skiing. It forms the most important connection between people and skis. Numerous problems in the ski boots come from instabilities, which arise from the shape and position changes of the foot in the hard shell and are thereby causing pressure points. The most efficient way to solve these problems is to stabilise and support the foot to its optimum.
Boot fitting supports and improves your athletic performance not only in ski boots, but can also bring considerable advantages in your golf, bike or hiking boots.
Insights into the boot fitting process
Pressure points and blisters are a thing of the past
During a boot fitting, the boot is custom-fitted to your foot using well-established as well as cutting-edge technology, conducted with the high level of expertise of one of our team colleagues. Afterwards, the boot will fit perfectly with no pressure points, improving your overall level of comfort and performance while skiing.
We take a similar approach to ensuring that your hiking boot also fits your foot to a T.
The ski-boot fitting at Pesko Lenzerheide is included in the purchase price whenever you buy your ski boots from us.
In addition, ski boots purchased from us are covered by a perfect-fit guarantee.
If you bought your ski boots from another sports shop, the analysis and fitting of those ski boots will be charged according to actual cost.
Nach ca. 100 Skitagen sollte man sich neue Skischuhe zulegen damit optimaler Halt, Komfort und eine gute Performance garantiert ist.
Beim Kauf eines neuen Skischuhs ist es wichtig, dass der Schuh individuell auf deinen Fuß abgestimmt ist. So können schmerzhafte Druckstellen vermieden und die Performance verbessert werden, denn die Kraftübertragung auf den Ski erfolgt über den Skischuh.
Besonders bei schmalen Füßen ist es wichtig, deine Füße zu vermessen, um den perfekten Skischuh zu finden. Zusätzlich kann der Skischuh durch eine Innenschuh- und/oder Schalenerwärmung noch optimal an deinen Fuß angepasst werden.
Wenn du Skianfänger bist, ist es grundsätzlich besser, auf einen weicheren und somit flexibleren Skischuh zu setzen. Die Experten in unseren Shops können im Rahmen eines Skischuhfittings den passenden Schuh mit dir auswählen und diesen individuell an deine Füße anpassen, um dir so einen optimalen Tragekomfort zu garantieren.
Der Flex-Wert ist ein Indikator für die Steifigkeit des Schafts nach vorne. Je höher der Wert, desto größer ist der Widerstand am Schienbein. Durch einen hohen Wert erhält man zwar eine bessere Kontrolle des Skis, hat aber auch weniger Beweglichkeit im Sprunggelenk.
Boot fitting in summer
Individual insoles for a stable foot in the shoe
Insoles are invisible to others and their function is therefore often underestimated. They definitely should be missing in hiking, bikes or golf shoes! Insoles specially adapted to the foot support the foot, protect the joints and thus reduce stress. In addition, insoles in your shoe provide optimal stability, more cushioning and overall more comfort when hiking, golfing or biking.
We at Pesko Lenzerheide have a wide range of insoles on offer for all sports enthusiasts, tailored to the various requirements which are specific to each type of sport. Depending on the anatomy of the foot and the type of sport, our boot fitting specialist selects the insole which fits your feet and the shoes best.
When a shoe is being produced, the individual consumer needs cannot be taken into account. Customers and shoes only meet in the sports shop. The original insoles of your shoes are usually placeholders which are not or only slightly shaped and do not have any additional individual functions such as stabilisation or cushioning. With the various step-in constructions, such as those from Bootdoc, you quickly get the right insole, which can through thermal adjustment be individually shaped and therfore fits perfectly.