Brand Stores
In the heart of Lenzerheide, the Mammut Shop and the Namuk Pop-up Store invite you stop in, browse the collections and try on a few pieces.
Mammut fulfils every wish of sportsmen and -women. The combination of an attractive look and first-class functionality reflects the high standards of Mammut products. At the same time, sustainability and commitment to nature play an important role in everything this traditional Swiss company does.
In its Children's Outdoorwear department, Namuk really raises the bar. Children love the durable, high-quality clothes from this Swiss label, which are also handed down to younger siblings and eagerly worn by them as well. True to the motto "reduce, reuse, recycle".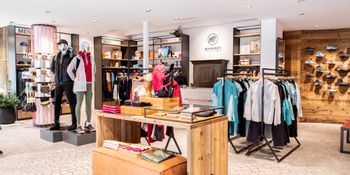 Our 2 shops in Brand Stores